A neurosurgeon who operated on the wrong side of his patient's spine claims he can't be sued because of a federal law that protects healthcare professionals during a public health emergency, according to a a report by KSDK, an NBC-affiliated television station in St. Louis, Missouri.
Natalie Avilez, who lives in Missouri with her husband and five children, had been suffering from intense back pain. At some point in the recent past (the story doesn't identify precisely when), she was referred to Fangxiang Chen, MD, a neurosurgeon affiliated with Mercy Hospital and Mercy Hospital South, in St. Louis. Avilez reportedly claims that Chen told her that an "easy" surgery — a hemilaminectomy — could relieve her back pain.
Something went wrong during the procedure, however. Chen ended up operating on the left side of Avilez's spine instead of the right side, where he had initially diagnosed disk-related pressure. Chen realized his mistake while his patient was under anesthesia but couldn't remedy it.
As she awakened, Chen asked her to authorize an immediate right-side surgery, but, as Avilez told the TV station, her "charge nurse would not let him get authorization because I wasn't fully awake." In the recovery room afterward, Chen explained what had happened to his patient, who permitted him to redo the surgery the following day.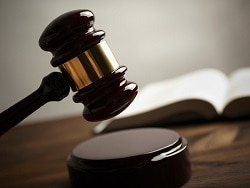 But the redo didn't remedy Avilez's pain; in fact, the second surgery made things worse. "I'm always in constant pain," she said. "I kind of feel like I would have been better off not even doing it at all."
In January of this year, Avilez filed a medical malpractice suit against Chen and Mercy. But the neurosurgeon made a surprising claim: He said he couldn't be sued for the wrong-site surgery because he was protected for any "alleged acts or omissions" under the federal Public Readiness and Emergency Preparedness (PREP) Act.
Initially passed in 2005, PREP was intended to shield doctors and other licensed healthcare professionals from liability during a public health emergency except in cases of willful misconduct. On March 17, 2020, then–Health and Human Services Secretary Alex Azar invoked the PREP Act "for activities related to medical countermeasures against COVID-19."
But could this declaration — which has since been amended multiple times — shield a physician from a claim of wrong-site surgery?
Avilez's attorney, Morgan Murphy, doesn't think so. "Obviously, we are not claiming that COVID had anything to do with the fact that Dr Chen operated on the incorrect side of Natalie's spine. It is a fairly straightforward situation. A doctor should never perform the incorrect surgery, period."
Other observers are less certain that the Chen defense won't hold. It's true the PREP Act doesn't protect doctors against claims of willful or intentional misconduct, says Deidre Gilbert, who leads a national medical malpractice patient-advocacy group. But such claims are, she quickly adds, very difficult to prove, never more so than during a pandemic.
Several states, including Missouri, have passed or are considering additional measures to protect healthcare professionals against the expected wave of COVID-related claims. (One estimate places the number of those claims at almost 6000 as of February 2021.) "We want to make sure that there is a heightened standard for holding somebody liable in…COVID transmission cases," said the sponsor of the proposed Show-Me State legislation.
As for Avilez, she feels lucky that she's not even worse off than she is now. She worries, though, about other patients who are less fortunate and who are told that the pandemic protects their healthcare professionals from liability. "That's just not fair," she says.
Hidden Beliefs About People of Color Raise Liability Risks
Clinicians' "implicit bias" can exacerbate medical disparities and also malpractice claims, a story in the Dayton Daily News reports.
The story's authors cite La Fleur Small, PhD, a medical sociologist at Wayne State University, in Detroit, Michigan, who sees "implicit bias" as a set of "unconscious associations and judgments" that affect social behavior, causing people to act in ways that are often contrary to their perceived value system. In the medical profession, such thinking can have unintended consequences, especially for people of color.
Implicit bias can erode the physician-patient relationship, which in turn can make a malpractice suit more likely should an adverse event occur. Studies reported in recent years in the AMA Journal of Ethics, for instance, found that poor communication was a factor in almost three quarters of closed claims. Other studies have revealed that, of patients seeking legal advice following a medical mishap, more than half cited a poor doctor-patient relationship as a contributing factor in their decision.
To remedy things, it would be helpful to boost the number of doctors of color, at least to the point that it more closely reflects the percentage in the general population, say experts. Currently, although Black and Hispanic persons constitute 13.4% and 18.5%, respectively, of the overall US population, they make up only 5.0% and 5.8% of active physicians. (As of 2018, 56.2% of all physicians were White and 17.2% were Asian, according to data from the Association of American Medical Colleges.)
Father of Impaired Baby Seeks Mega Damages
An Oregon man whose son sustained permanent neurologic injuries during childbirth has sued the hospital where the 2017 delivery took place, as reported in The Astorian.
In the suit on behalf of his son, Wesley Humphries claims that Columbia Memorial Hospital, in Astoria, Oregon, failed to monitor the baby's heart rate and other aspects of the labor and delivery. As a consequence, the baby needed to be transferred to Oregon Health and Science University Hospital, in Portland, approximately 100 miles away, for emergency treatment. Doctors there diagnosed the child as having hypoxic ischemic encephalopathy, which his lawyers say resulted in cerebral palsy, among other neurologic conditions.
Because of his son's permanent impairment, Humphries is seeking significant damages: more than $45 million in medical, custodial, and life-care expenses and $65 million in noneconomic damages. Should his claim prove successful, the payout would mark one of the largest awards — if not the largest award — in Oregon State history. The hospital has declined to comment.
At press time, a trial date hadn't been set.
The content contained in this article is for informational purposes only and does not constitute legal advice. Reliance on any information provided in this article is solely at your own risk.
Wayne J. Guglielmo, MA, is an independent journalist based in Mahwah, New Jersey.
For more news, follow Medscape on Facebook, Twitter, Instagram, and YouTube.
Source: Read Full Article