This article originally appeared in the December 2020 issue of Men's Health.
JOHN WOLF'S job is all about thinking in new ways to break away from conventions—but 2020 was still an unprecedented challenge for him.
The man tasked with leading the fitness curriculum at Onnit, the company behind some of the most unconventional, versatile workout gear on the market, had to adjust the ways he approaches both his work and family.
He wound up building stronger connections than ever before.
Now, in his own words, Wolf shares the lessons he's learned through a period that was challenging and isolating—but which ultimately led to deeper connections and a renewed sense of focus.

I think fitness is taking on a little more of a mental-emotional aspect during this pandemic. It is a thing that people have doubled down on in a variety of different ways, but it looks and feels so much different than it did before.
The availability of the equipment is a big issue these days. It's forced kind of a Spartan and minimalist mindset, like, 'How creative do I have to be to get the job done?'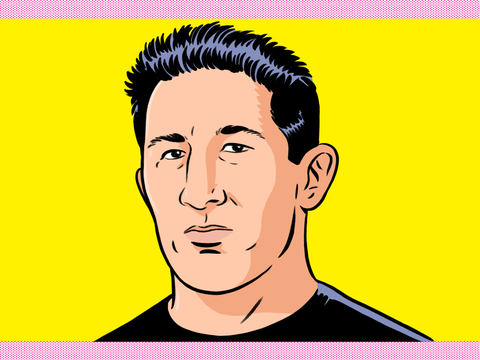 Some of the coaching I've gone through for personal improvement is what I lean on in this larger group environment because it's not like everybody looks the same. Not everybody has the same interests—except for everybody feels that they're alone, to some degree, that their circumstances are uniquely theirs … Then through breaking down the barriers in the group, and me also being vulnerable to my experiences live and being forthright with them about those things, hoping that we're facilitating an environment where people realize okay, the circumstances might all be really different, but the subjective experience that we're all having is very consistent as human beings.
In this day and age, right now, the sense of feeling seen and feeling heard—to feel validated on some platform in some way—takes on a greater meaning and grander meaning than it ever has before… That's really the biggest message, you show up here and you are seen and you are heard, and that even just that the act of showing up is enough to participate.
If it's a nice day, we create a space where we can go for an hour-long walk as a pack. Walking together creates either quiet time, being around each other, being okay being quiet, and/or the perfect storm, the perfect opportunity to be able to converse about things that matter and observe the world around us at a tempo where there's actually time to see something. You drive down the same street, you don't see the detail on that flower. You might not even notice that those flowers bloomed between yesterday and today.
If you're on the path to bettering yourself, there's time and space that you have to dedicate to sharing that improved version of yourself with people you love, your family, your community, whatever that looks like. There's concentric circles out from you. That is our right and responsibility: to make a positive impact in those circles, the ripples in the pond. It's about creating sacred space and sacred times, and the things you cherish are non-negotiables.
Source: Read Full Article